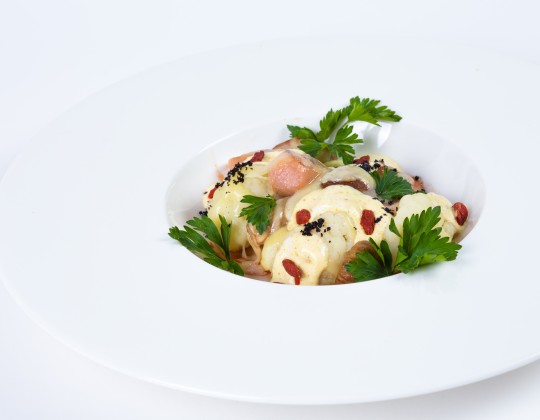 9 October 2018
Frankfurters with cauliflower and boletus casseroled under curry sauce
Preparation time: 25 minutes
Servings: 5
Difficulty level: easy
SHOPPING LIST:
Frankfurter sausages: 500 g
Cauliflower: 300 g
Boletus: 200 g
30% cream 200 ml
Curry: 20 g
Salt: 4 g
Pepper: 4 g
Cheddar cheese: 150 g
Mayonnaise: 50 g
Cut the frankfurters into slices, stir-fry with boletus and boiled cauliflower cut into flores, then add salt and pepper. Add mayonnaise to the slightly cooled mix and set it in a tray in the form of a small casserole, then add grated cheese. Bake for 10 minutes in 150 degrees Celsius. Make sauce of the cream and the curry mix (concentrate via reduction, then add salt and pepper). Set the casseroled frankfurters with the vegetables on the plate and cover in sauce. Decorate using fresh herbs.